1980's
Sheffield Eagles were accepted into the Rugby League in 1984 and set about assembling a team. The main promoter, Gary Hetherington, was still a player and would be the club's first choice hooker in 1984/85 but the first signing was, in fact, Daryl Powell, who was signed from the Redhill amateur club in Castleford.
The second was Mark Gamson, a scrum half from Leeds with a fairly active disciplinary record. Other players in the squad included Billy Harris, Paul McDermott, Steve Cooper, current CEO Andy Tyers, Paul Welsh, a couple of Mark Campbells and Vince Farrar, plucked from retirement on account of the miners' strike.
(Left) Eagles first training session on 16 August 1984.
(Right) the Eagles in action in 1984 at Owlerton.
Eagles played their first game on 2nd September 1984. The opponents were Rochdale Hornets and the game was played at the Eagles home ground of Owlerton Stadium. Rochdale raced into a 0-10 lead but the Eagles, hampered by injuries fought back to win 29-10.
That was one of only a few victories in the season, Eagles finishing the season with a modest record of eight league wins, seven of which were at home. Highlight of the season was probably a home victory in the John Player Special Trophy, a 17-6 win over First Division Wakefield Trinity, which earned the Eagles a trip to Headingley to play Leeds, where they were less successful.
(Left) Gary Hethrington at Owlerton in 1984.
(Right) Andy Dickinson signs on 19th January 1986.
Eagles made steady progress in the following seasons, always finishing higher than in the preceding season. During the 1985/86 season, they made a significant signing in a young, confident half back in Mark Aston. By the third season, 1986/87, they were on the fringe of promotion, finishing sixth.
In an early season game at Fulham, Roy Rafferty kicked twelve goals, a new club record. His two tries in the same game gave him 32 points, a record which still stands today. There were a number of significant signings at the start of the following season, including Mick Cook and Paul Broadbent from Queens and Lock Lane respectively. Eagles finished fifth in 1987/88, well poised for a promotion bid the following season.
(Left) Eagles training in 1985 with New Zealanders M. Roiall & P Burgoyne.
(Right) Neil Kellett in action vs Bramley on 28th August 1988.
Finally in 1988/89, they achieved promotion. In the new year game at Mansfield, Daryl Powell scored five tries which, though equalled three times, has not been exceeded. After a patchy couple of months in February and March, they edged over the line with three vital wins over the Easter period.
The first was a convincing win over close rivals York, 21-0 at Clarence Street on Good Friday. The second was on Easter Sunday, 24-16 against Fulham at Owlerton and the third was a legendary game against Chorley Borough, Eagles winning 26-8 in an Owlerton mudbath.
Third place qualified the Eagles for a home game against local rivals Doncaster in the Premiership quarter final and they were despatched 28-10. Next up was a trip to Barrow in the semi-final. Eagles trailed 0-6 for almost an hour, before coming good in the last twenty minutes, a try from Mark Fleming and three goals from Mark Aston sealing a narrow 9-6 victory.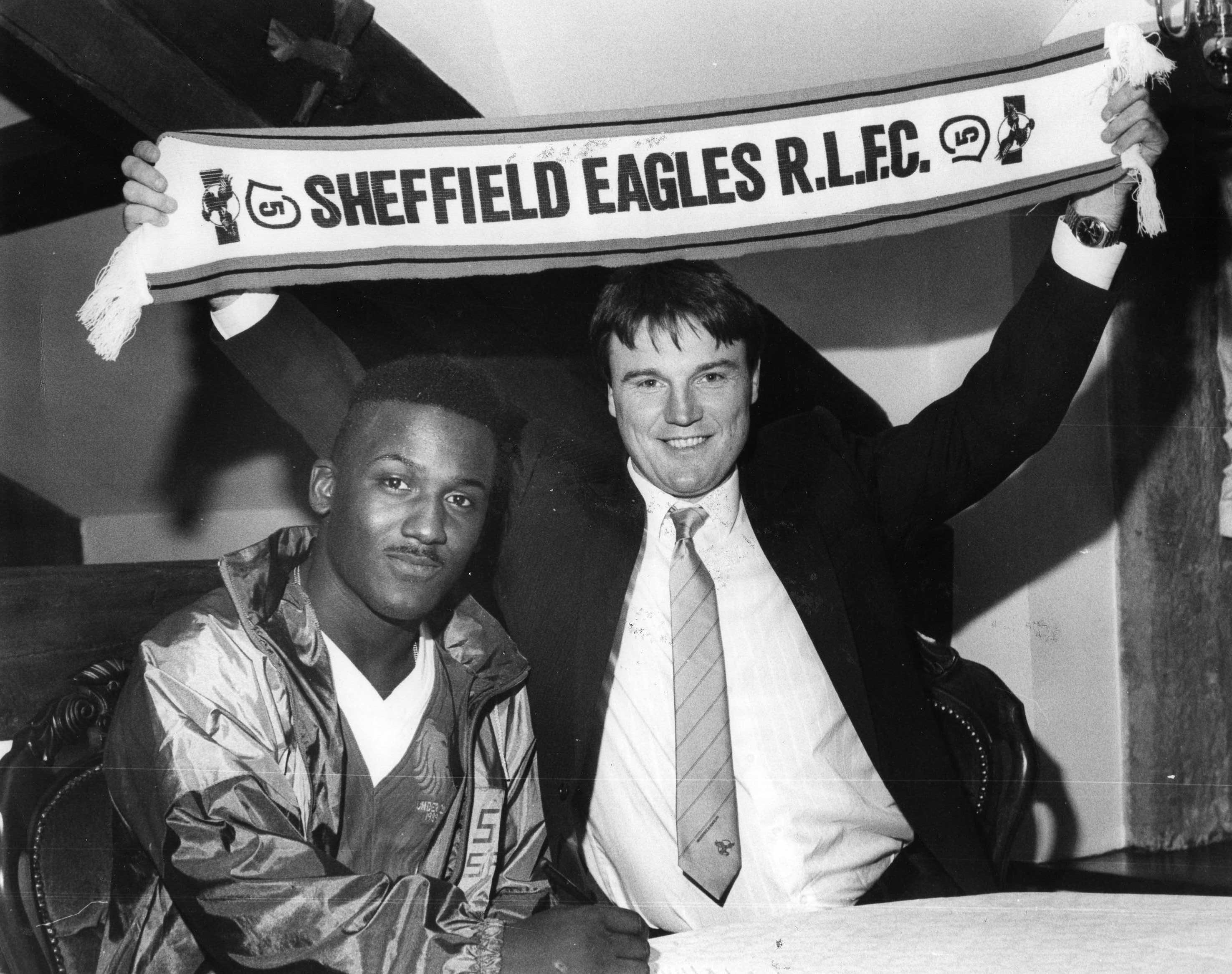 (Left) Mark Gamson receives a cheque as M.OT.M from Whitbread.
(Right) Anthony Farrell signs for the club on 23rd October 1989
The final was a week later at Old Trafford. Mark Aston had scored in every game that season and relieved the pressure on himself by dropping an early goal to become only the thirteenth player in Rugby League history to score in every game in a season. Swinton briefly took control of the game but tries from Powell and Cook gave Eagles a 13-8 lead by half time.
The second half didn't start well, Tommy Frodsham's try, converted by Myler, giving the Lions a slender lead. However, with Steve O'Neill dismissed from the field, Eagles' numerical advantage finally told as, with further tries from McDermott, Powell (2), Aston and Broadbent, they ran out 43-18 winners to capture their first silverware.
(Left) Eagles celebrate victory over Chorley at Owlerton in 1989.
(Right) Daryl Powell lifts the trophy at Old Trafford with Aston & Broadbent pictured.
1990's
With everyone eagerly looking forward to life in the top flight, Eagles were immediately dealt a blow when Owlerton was closed down on health and safety grounds.
Four games had already been switched to Hillsborough and Bramall Lane but neither soccer club were prepared to host the remainder of Eagles' fixtures. There was light at the end of the tunnel as the Don Valley Stadium was scheduled to be completed in time for the 1990/91 season but the 1989/90 games were eventually played at seven different venues.
(Left) The Eagles take on Salford in 1990
(Right) The Team at the grand opening of Meadowhall, pictured in the 'Oasis' Food Court in 1990
Eagles started the season with much the same team as had finished the previous one, though the squad was strengthened as the season went on with Bruce McGuire, whose previous game had been for Balmain against Canberra in the NSWRL Grand Final, Francis Leota, Tawera Nikau, crowd favourite Hugh Waddell and teenage centre Anthony Farrell was signed for a record £55,000.
Significant wins were at Featherstone 37-12, a tremendous win against world champions Widnes, 31-6 at Bramall Lane, two wins in five days at Warrington and a 24-10 win at Oakwell against Wakefield Trinity.
(Left) Eagles players & Nicola Brett on work experience in 1991.
(Right) Keith Mumby & Gary Hethrington at Don Valley Stadium in 1992.
The key match, however, might have been a never say die fightback from 0-20 down at Salford, securing a 20-20 draw which proved crucial as Eagles stayed up on points difference.
1990/91 started well with a draw at Wigan and the opening of Don Valley Stadium, when Eagles beat Wakefield Trinity in some style, 34-6. But the season deteriorated and Eagles won only seven games, being relegated for the only time in their history.
Division Two comprised only eight clubs in 1991/92, with each club playing each other four times. With only one opponent in Yorkshire, there was a good deal of travelling for away fans, including trips to Carlisle Workington and London. Eagles were involved in a close battle for the Championship with Leigh.
After three close games, Eagles won a key match at Don Valley by the surprisingly wide margin of 51-6 and took the title by a point.
A 72-14 win against Keighley, with Mark Aston equalling the club goals in a match record of 12, and a semi-final win over Batley 36-22 took Eagles back to Old Trafford, where they faced Oldham. Once again, Daryl Powell ended up with a hat-trick as Eagles ran out 34-20 winners.
Back in Division One, Eagles strengthened the squad with Bruce McGuire returning along with Balmain team-mate Garry Jack. Paul Carr also joined the club from Hunslet.
There was early season success in the Yorkshire Cup; despite conceding a nine second try to Hull, Eagles beat Hull FC 12-8 to reach the last ever Yorkshire Cup Final.
They warmed up for the final with a tour game against Australia, losing 22-52. With the final taking place only three days later, Eagles trailed 0-21 to Wakefield at one point before rallying slightly to lose 16-29.
At the end of the season, Gary Hetherington resigned and Bill Gardner took over at the start of 1993/94. Lee Jackson was signed for a record £83,000 but results didn't go in Eagles favour apart from an unexpected 19-12 win against St Helens and an exciting last gasp win, 18-15 at home to Hull FC. Gardner left the club in December with Gary Hetherington taking the reins once again.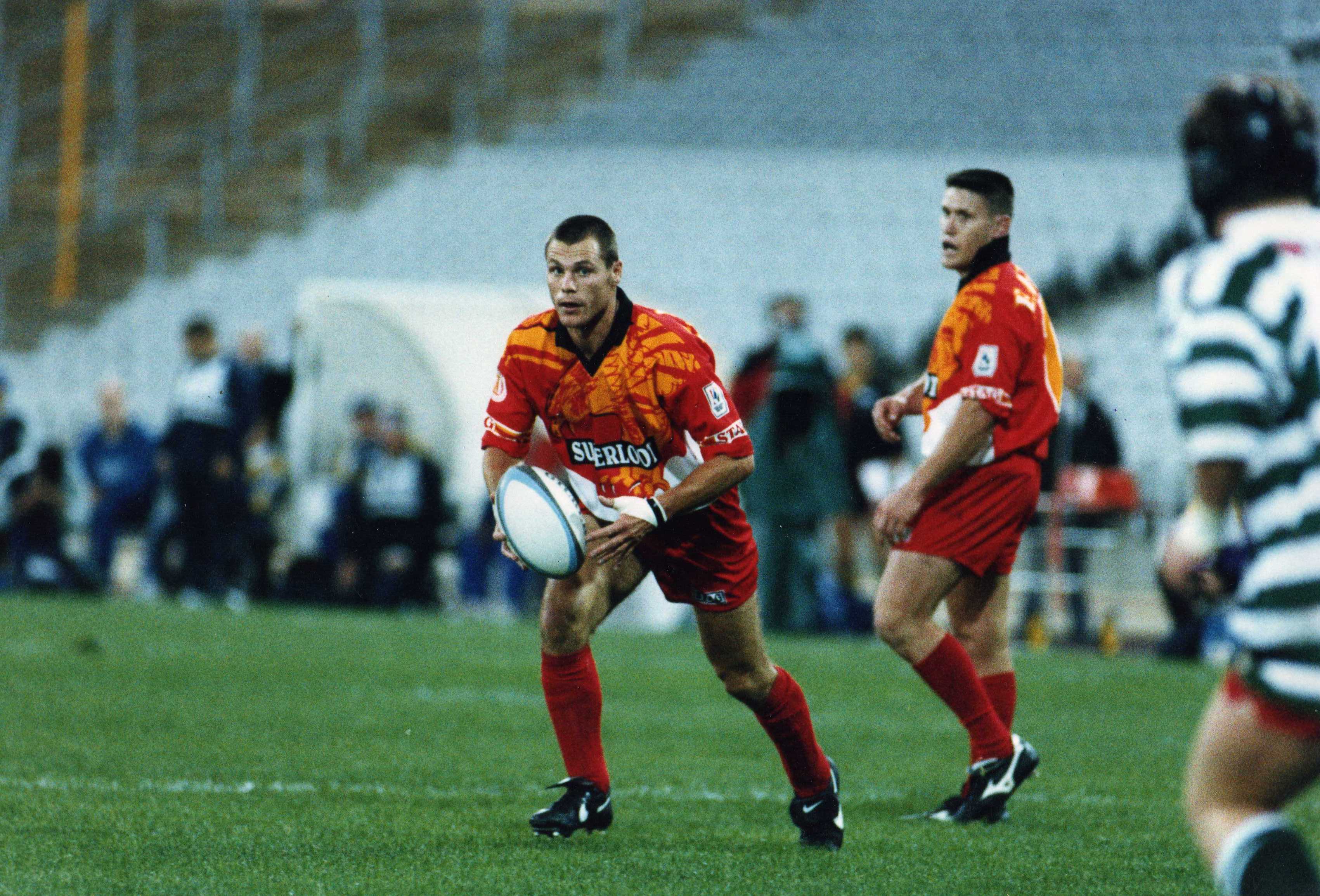 A run of nine wins in ten games pushed Eagles up the table, eventually finishing a creditable sixth an earning a Premiership quarter final at Warrington, who had lost out to champions Wigan on points difference.
Eagles won but there was no fairy tale return to Old Trafford as they lost the semi-final at Wigan.
During the close season, Mark Aston joined Featherstone Rovers in a record £100,000 deal. He was replaced with Australian Darrell Trindall who lasted one game at Workington before returning to Australia. Eagles nevertheless finished eighth, winning 15 and losing 15.
Their best performance came against St Helens at Don Valley when, after trailing 0-20, Eagles recovered to win 35-31. Eighth place earned a trip to Wigan in the Premiership where Eagles predictably ended their season.
Sky and Superleague came along in April 1995 and the top ten clubs, plus London Broncos and Paris St Germain were to form the new league in 1996. Before then, there was a short season to switch us from winter to summer rugby.
With Mark Aston's Featherstone having missed the cut, Rovers were keen to cut their costs and Aston resigned for the Eagles at a very substantial discount. Eagles won one of their first nine before a break whilst the World Cup took place.
Following their success in the World Cup, Eagles signed three Fijians, Joe Dakuitoga, Waisale Sovatabua and Mala Yasa. Their season turned around, winning nine of the remaining eleven games and finishing in fifth place, their highest ever placing.
Eagles opened the Superleague era in front of a near 18,000 crowd in Paris and, in a game which could have gone either way, lost 24-30 to the French.
They finished seventh – another so-so season but, nevertheless, eight points ahead of Leeds who had looked over their shoulders at relegation for much of the season.
They answered that by offering Gary Hetherington the post of Chief Executive and Paul Thompson stepped on the scene to buy the club with massive plans to finance the assembling of a team.
Several players followed Hetherington to Leeds and new coach Phil Larder added Martin Wood, Jean-Marc Garcia, Danny McAllister, Nick Pinkney, Rod Doyle and Whetu Taewa – amongst others.
Larder was replaced in May by his assistant, John Kear, shortly before the club entered into the new World Club Championship competition.
First up was a home game against Perth Western Reds, where Eagles dramatically came back from 2-22 with 20 minutes to play to win 26-22. In the league campaign, Eagles finished eighth, comfortably away from the relegation zone.
Eagles continued to make signings and, for the 1998 season, signed up Dave Watson, Darren Shaw, Michael Jackson and Steve Molloy.
This was, of course, the season where Eagles reached Wembley for the first time and that historic cup run is dealt with elsewhere. Sadly, success on the field and the acquisition of silverware didn't lead to the anticipated increase in crowds.
By mid 1999, Paul Thompson had become, understandably, disenchanted with his investment and negotiations had begun for the ill-fated merger with Huddersfield Giants.